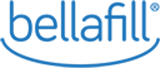 Bellafill® is a unique, injectable collagen filler with microspheres that can instantly smooth facial wrinkles (nasolabial folds) or correct acne scars for beautiful, natural-looking correction that lasts. Bellafill® is approved for the correction of facial wrinkles known as nasolabial folds, or smile lines, and the correction of moderate to severe, atrophic, distensible facial acne scars on the cheek in patients over the age of 21 years. Bellafill® is also the only dermal filler established safe and effective for the correction of nasolabial folds through 5 years.
Is Bellafill® right for me?
It's a difference you can feel! Treatment with Bellafill® is very similar to treatment with conventional fillers. Bellafill® immediately adds volume to wrinkles known as smile lines for a smoother, more youthful appearance. In addition, Bellafill® re-creates the firm structure of younger-looking skin by supporting production of your body's own collagen. When treating acne scars, Bellafill® adds volume below the scar to lift it to the level of surrounding skin for the smoother skin you've dreamed of.